Reimbursement for telehealth is not simple to understand. You can spend a couple hundred dollars on webinars trying to figure out how reimbursement works, and still not understand if/how to get reimbursed, or if private payers, or Medicare/Medicaid will cover the telehealth session. Plus, since reimbursement differs from State to State, and from plan to plan, there is no clear answer.
An overview of how telehealth reimbursement works is as follows:
Medicare/Medicaid, depending on State, may reimburse for the telehealth session + a telehealth originating site fee (CPT code Q3014).
Private Insurance covers telehealth in 18 States (see the National Conference of State Legislature  (NCSL) webpage to find out more about your State). The map below from NCSL shows which States do and do not cover for reimbursement.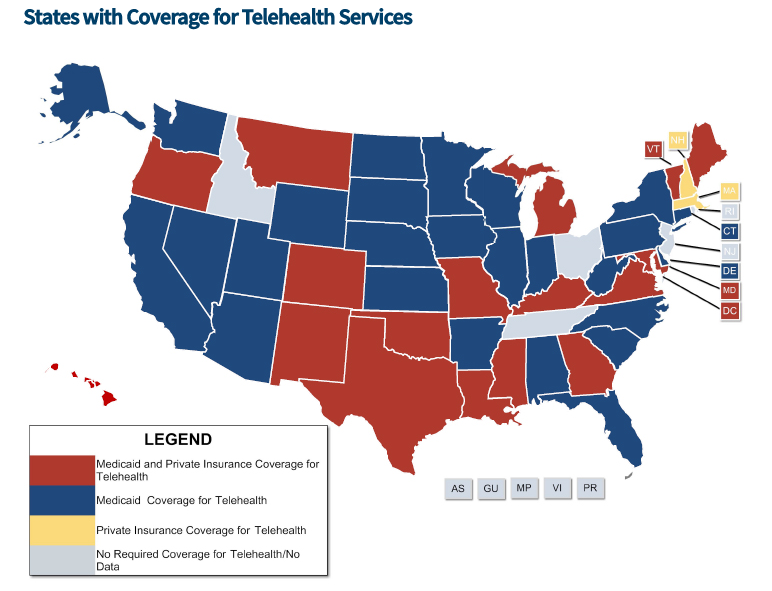 List of codes that can qualify for telehealth reimbursement
·       90791 and 90792: Psychiatric diagnostic interview examination
·       90832 – 90834 and 90836 – 90838: Individual psychotherapy
·       90951, 90952, 90954, 90955, 90957, 90958, 90960, and 90961: End-Stage Renal Disease related
·       services included in the monthly capitation payment
·       96116: Neurobehavioral status examination
·       96150 – 96154: Individual and group health and behavior assessment and intervention
·       97802 – 97804 and G0270: Individual and group medical nutrition therapy
·       99201 – 99215: Office or other outpatient visits
·       99231 – 99233: Subsequent hospital care services, with the limitation of 1 telehealth visit every 3 days
·       99307 – 99310: Subsequent nursing facility care services, with the limitation of 1 telehealth visit every 30 days
·       99406 and 99407 and G0436 and G0437: Smoking cessation services
·       G0108 and G0109: Individual and group diabetes self-management training services, with a minimum of 1 hour of in-person instruction to be furnished in the initial year training period to ensure effective injection training
·       G0396 and G0397: Alcohol and/or substance (other than tobacco) abuse structured assessment and intervention services
·       G0406 – G0408: Follow-up inpatient telehealth consultations furnished to beneficiaries in hospitals or SNFs
·       G0420 and G0421: Individual and group kidney disease education services
·       G0425 – G0427: Telehealth consultations, emergency department or initial inpatient
·       G0442: Annual alcohol misuse screening, 15 minutes
·       G0443: Brief face-to-face behavioral counseling for alcohol misuse, 15 minutes
·       G0444: Annual depression screening, 15 minutes
·       G0445: High-intensity behavioral counseling to prevent sexually transmitted infection; face-to-face, individual, includes: education, skills training and guidance on how to change sexual behavior; performed semi-annually, 30 minutes
·       G0446: Annual, face-to-face intensive behavioral therapy for cardiovascular disease, individual, 15 minutes
·       G0447: Face-to-face behavioral counseling for obesity, 15 minutes
·       G0459: Inpatient pharmacologic management